CMS for Archiving
Updated: Sunday, 07 August 2016
Running a website without the backend stuff.
You might think that it was a bad idea to combine the backend and frontend user interface into a single theme, because you would think that it would becomes increasingly difficult to develop a theme/shield for Mecha–powered sites. But this is the way I do to minimize the backend requirements. Because with this way, I can rely some of the backend assets to the available frontend assets, especially on the layout.
It's not that difficult. Take the Blastula shield as an example. This shield doesn't have a lot of CSS and JavaScript code in it, but the backend appearance of this shield can still neatly arranged.
Since the first time this CMS was built, I had thought to add a special ability that is, to my knowledge, has never existed in any other CMS. I have some, but things I'm talking about here now is the ability to allow you to remove all of the backend stuff, while still maintain the site to operate.
What does this mean?
This means that if you delete the manager folder 1, then your site will keep running.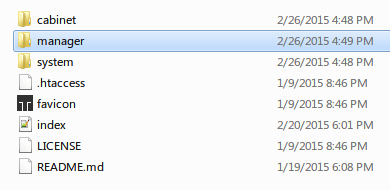 I added this feature because there will probably be a time in your life when you no longer wish to update your website, but still want to make it available to the public. Think of it as a memento web or historical web of yourself. By deleting the manager folder, it will automatically removes all of the backend user interface such as the page composer, comment editor and even the login page.
Note: Before doing this, you may need to disable the built-in comment feature to prevent your visitors from adding more comment files to the site.
You can still update your web content. Manually of course, through the cPanel. Because all things that exist in your Mecha–powered site are basically just a bunch of ordinary files.
Try it! Delete the manager folder and then you will see that your site will keep running!
Just Kidding
Have you done that? Please don't, it was a joke.
Just Kidding
Okay, just kidding. You may safely delete that folder.

---
In version 1.2.x, the manager folder will be stored in lot\plugins\manager as a plugin. To remove the manager user interface, simply click the Remove button from the plugin manager page. ↩